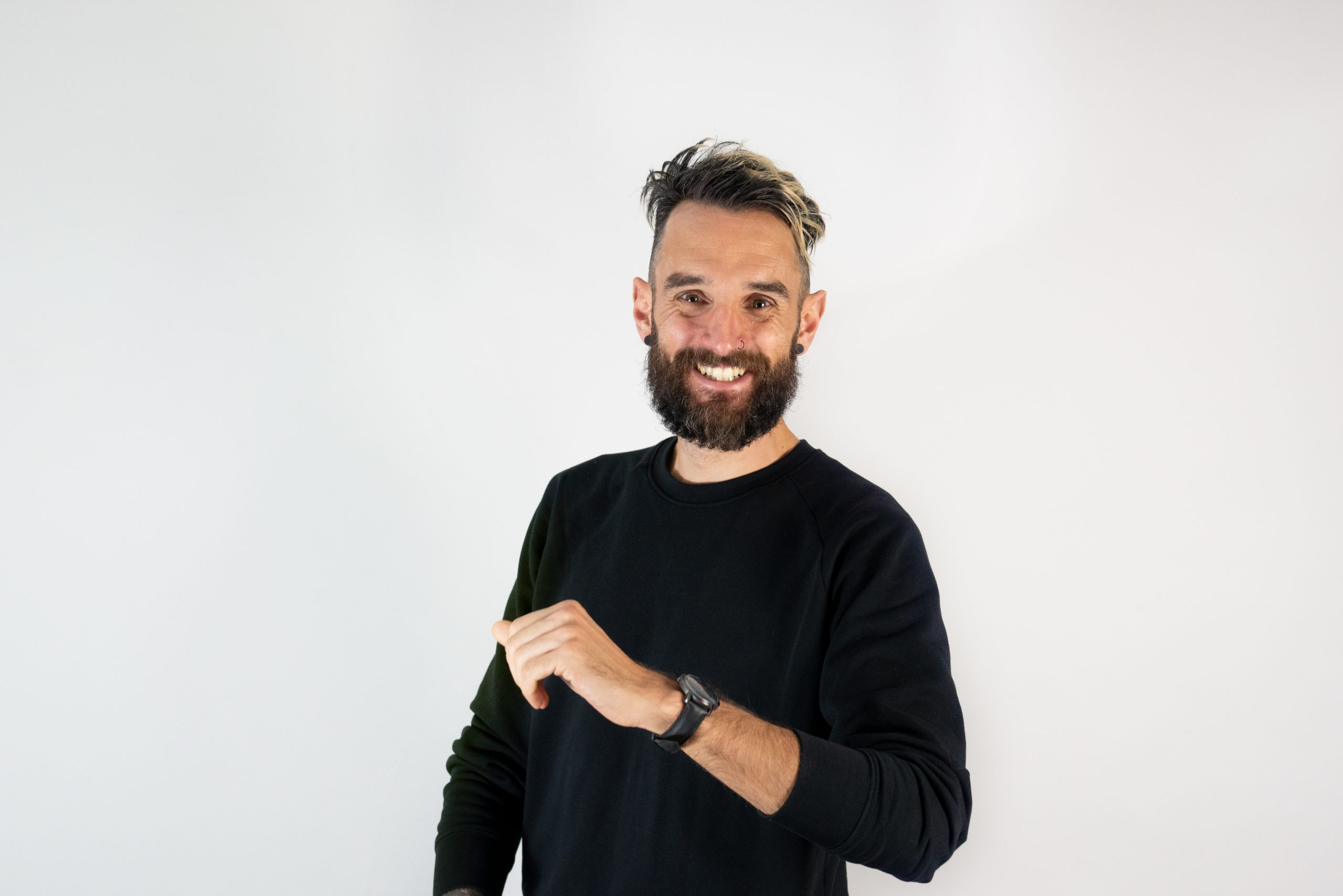 Withings ambassador Yoann Stuck is a champion trail runner, business owner, and busy family man. We caught up with Yoann to ask about his training regimen, favorite foods, ideal races and more.
Yoann Stuck, 37, hails from Châteauneuf de Gadagne in Vaucluse, France. He finished first in the Wings for Life World Run in 2017, fifth in the 100-kilometer run in the 2017 French Championships, and fourth in the 80-kilometer run in Paris Ecotrail 2019. We wanted to get to know this dedicated runner a little better.
Hello Yoann! Let's get to know you better. What were you like as a child?
As a child, people used to say that I was "very restless" at school. I was never bored. I was often with friends but was very lonely too. As a teen, it got tougher! I fooled a lot around with my friends. My grades in school were okay—I didn't need to work hard to get decent grades and decided not to work hard to get better ones.
Tell us about your family.
I have lived with my partner, Estelle, for ten years, and our daughter Charlee will soon be 5 years old. We also have a French bulldog.
When it comes to food and drink, what are your weaknesses?
Beer first! But also carbonara pasta, pizzas, Saint-Tropez pie, and Mont Blanc ice cream … yum!
You were a smoker, a partier, and not really athletic 10 years ago. Today, you're the podium as a runner. You've have a relatively atypical course in the world of running. How did you become a top athlete?
Very gradually. Of course, when I first started jogging, I couldn't imagine everything that has happened since. I acquired a taste for running longer and losing myself in it. Then I met people who led me to join a club. I ran when doing errands and discovered other playgrounds. And then, once I had partners and sponsors, I wanted to do even better. I train a lot and I also get support to try to do things well.
In your everyday life, as in your training, which physical indicators do you look at? Heartbeat? Body composition? Sleep quality?
Sleep is a very important parameter for me. I am a rather heavy sleeper, and with my training, recovery is essential. I also look at my weight and its related indicators. Not to mention diet, which I hate. I know my fitness weight, and getting away from it is never good, either when I'm racing or training. For the other indicators, such as breathing, I can immediately tell when I'm training whether I'm in good shape or not. When you run, you're more in tune with issues related to your health.
Which Withings products are you using right now?
I use a Withings smart scale every 3 to 4 days to weigh myself regularly without being overwhelmed by my weight and Sleep every day to see the quality of my recovery.
With its elegance and simplicity, the Steel HR Sport watch is my favorite product. It takes my pulse all day and I stay connected with my phone.
What do you think of when you think of Withings?
Quality above all, and products that remain simple to use. For me, the search for innovation is also an important quality—[I look for a] brand that constantly seeks to renew itself and improve.
You've been running regularly since 2010-2011. Most people abandon their resolutions within a few weeks or months after making them. What are the keys to your success?
First, the mind: go gradually and enjoy it. When you like [exercise], you have come a long way! And progression— don't go too fast so you don't get hurt or frustrated. Always go step-by-step!
You are also an entrepreneur with your IamWoodstuck brand. Between family life, sports, and running your business, do you have a typical day?
In the morning, we all get up for breakfast. I usually take my daughter to school, and then work until the late morning, when I work out. In the afternoon, I continue to work on coaching, IamWoodstuck, networking, or different requests until the evening. Sometimes I postpone a workout until late afternoon.
Is it easy to combine your family life with high-performance sports?
If I compare myself to a single, childless sportsman, it is not easy, obviously—all the more so if [sports] is not accepted by those around you. Estelle and I have changed a lot in our professional lives so that our family life is compatible with the rest. We work together. Estelle chose to stop working for the first three years after Charlee was born, and they accompany me as much as possible on my trips or to races. It is important to share your experiences and your feelings so they can understand, tolerate it, and still flourish.
Is it easy to combine your professional life with high-performance sports?
As I said above, it's a whole! Before [sports], I was in sales, working 39 hours a week with regular hours and few weekends. When you are self-employed, there are no more hours or weekends or holidays, but you have to organize yourself, and you can work wherever you want. Everyone can decide if they want their glass to be half empty or half full. Depending on the point of view, it's easy or complicated! I'm lucky to do what I love and to have been able to develop what I really want.
Who takes the beautiful photos on your sites?
Often me! I'm often alone on my outings, so I don't have a choice if I want content. Afterward, I'm lucky to do a lot of shooting with my partner brands like Gore or Brooks, which allows me to have beautiful images in beautiful spots.
You are very close to your communities on social media, and you recently supported the campaigns for Tobacco-Free Month, Movember, and even Breast Cancer Awareness Month. Why is it important for you to use your expertise for health-related causes?
It's important because it touches me. If I can make a contribution, I will. Quitting smoking was lifesaving for me, and cancer, unfortunately, affects too many people around me. I can only try to participate in great causes in my own way. I've also created an association with my partner Estelle: Rares & Cimes, to raise funds for research into rare diseases. Our daughter was diagnosed with polyarthritis two years ago, and that made us want to invest in causes that are talked about less, and which are unfortunately growing.
Let's go back to exercise. How do you mentally manage races of 50, 80, and 100 kilometers? Are you in a bubble, or are you aware of the world around you? What is going on in your head?
To achieve these distances, I train rigorously, without music, which allows me to better understand this type of long-distance. When I run, I feel like I'm meditating in my bubble, which allows me to get ahead of physical and mental fatigue. You learn a lot about yourself during races, and even more over long distances, I think.
Which race affected you the most, and what was the worst race you've ever had?
My best race is the Mont-Blanc marathon. The first time I did this race, I was with my partner and friends, and it was my first mountain trail. The atmosphere that reigns in these races and the magnificent landscapes immediately made me want to trail-run.
The worst was last year's Eco-Trail. I had just lost my mom, but I still wanted to hang up a bib. I should not have. I wasn't ready. I suffered through a large part of the race without ever having fun, but I finished it.
Are there any races or trails for which you don't feel ready yet, or ones you dream of entering?
I'm not ready for 100-mile (160km) races yet. The Leadville and the Western States races make me dream because they are mythical, historic races in the world of ultra-trail racing. It's still a little early for me, but I'm patient!
The ideal race, for me, is to be in control of the situation from start to finish and make the most of the environment of the race—including the landscape and the atmosphere.
Besides running, are there any other sports that you enjoy?
I like road cycling as much as running, but I practice less. I also love the stand-up paddle that I practice mostly on high lakes. I like a lot of sports, and I love to try new sports. I prefer those that are outdoors.
What are your plans for the 2020 season?
I'll start with the 35th Marathon des Sables, a solidarity race in the Sahara, from April 3 to 13, 2020—250 km in 7 days. I'll continue with Wings for Life on May 3, a simultaneous race around the world with no finish line. You run as far as you can before the Catcher Car passes you. On June 26, I plan to embark on the 14th edition of Lavaredo Ultratrail, which takes place in Italy in the Dolomites—120 kilometers in the mountains to cover in less than 30 hours. Finally, on August 28, I will finish with the CCC, one of the trails around Mont-Blanc—about 101 km and around 6100 meters of elevation gain. A good program!
Thank you, Yoann! Catch up with Yoann on Facebook, Instagram, Twitter, Youtube & Strava.