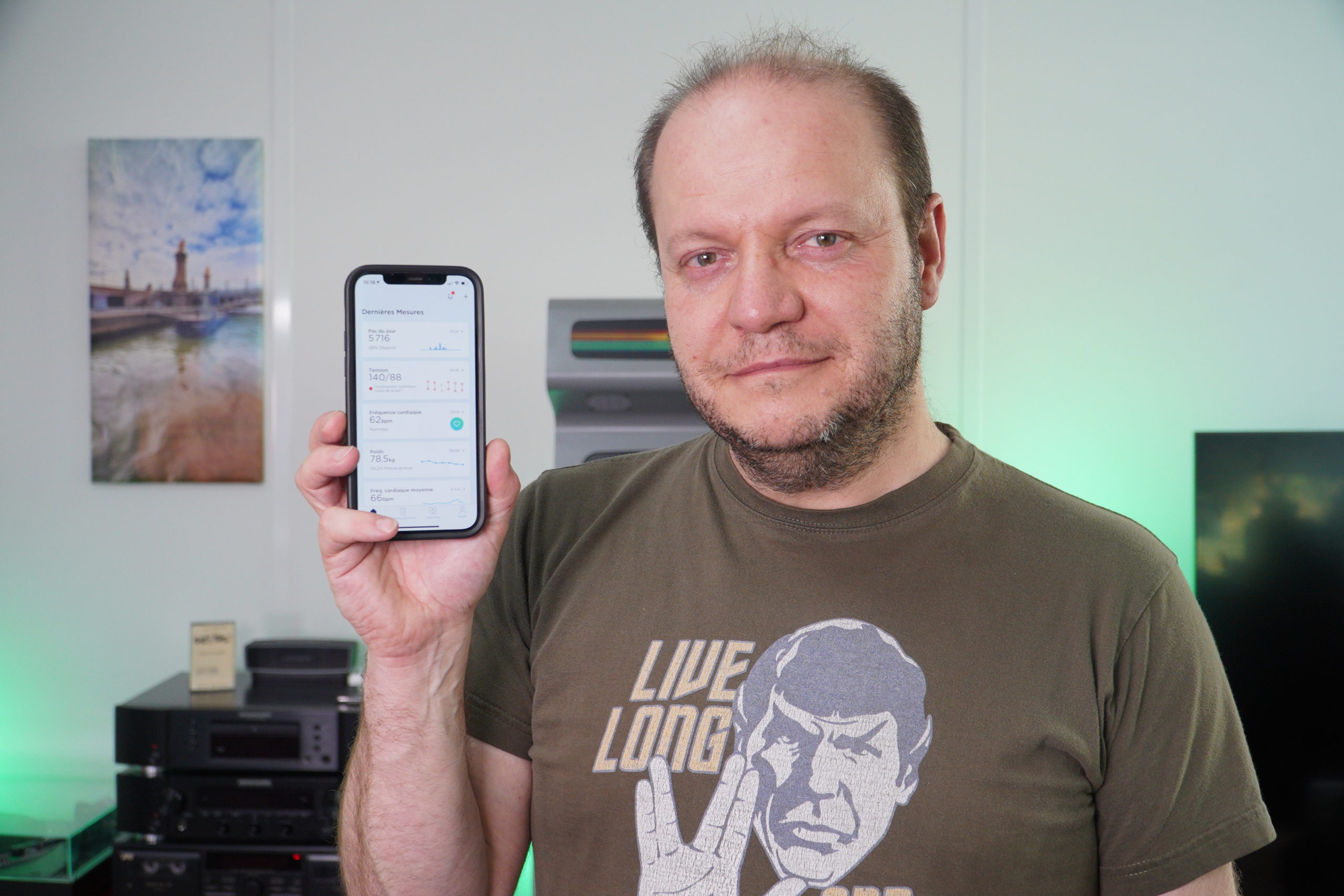 When a 49-year-old French tech guru discovered he had high blood pressure, it sent him a clear signal that it was time to improve his lifestyle.
Since 2013 Nicolas Catard has run a Paris-based production company and hosts a YouTube channel called "The Grand Test" where he shares his enthusiasm for new technology by reviewing the cream of the tech crop. His work is fast-paced and his non-stop work ethic is a big part of his success. But to keep up, Nicolas had put his body to the test… but he didn't know the results until recently.
Silent hypertension
In november 2020, Nicolas received a review unit of BPM Connect, a Withings smart blood pressure monitor. As he tried out the device to make up his mind and post some pictures on his social media channels, he was surprised to find his blood pressure was very high. A few days later, he had an appointment with his doctor to draw up a medical certificate so he could participate in a 10 km run. The doctor took his blood pressure and the verdict was clear. "My systolic was 200. The doctor immediately refused to give me my certificate and told me to make an appointment with a cardiologist. He prescribed medication to lower my blood pressure and gave me lots of recommendations. He also explained to me that with high blood pressure, I was more likely to have a heart attack or a stroke. It made it clear to me that I needed to make some drastic changes."
Keeping his doctor in the loop
While waiting for his appointment with the cardiologist, and following his doctor's recommendations, Nicolas decided to monitor his blood pressure twice a day: in the morning and at night. "Frankly, even if you don't understand what high blood pressure is, the app still gives you an idea of where you stand. With the color coding, I can see right away if I'm okay or not. It's motivating to see the trend improve and the numbers gradually go down as I work harder. I showed my app to my cardiologist who already knew about it. He encouraged me to continue. It's as useful for him to monitor the effectiveness of the treatment, as it is for me to see firsthand the impact of my lifestyle on the numbers."
Doctors recommend home blood pressure monitoring for high blood pressure to keep track of the condition. Because high blood pressure is often asymptomatic, i.e., there are no signs other than high numbers on the blood pressure monitor, it is impossible to monitor it otherwise. This monitoring can often prevent complications related to hypertension.
Sleep better, eat better, move better
Obviously, taking your blood pressure every day does not cure high blood pressure. Its treatment generally involves taking medication and improving one's lifestyle. Nicolas knows that he needs to make an effort.
"I had to change a lot of things, starting with my sleep. I used to get up at 5 a.m., but since I discovered my hypertension, I've been sleeping until 6 a.m." If this amount of sleeping in doesn't sound like a dream to you, it is at least a big change for Nicholas, who says he works six days a week.
The doctor also recommended that Nicolas lose weight and make sure he maintains a balanced diet. "The cardiologist told me to cut out as much salt as possible. But it's everywhere! The only way to avoid it is to cook yourself with fresh products, except that I am far from being an ace in the kitchen. It's a big challenge but I've already lost 20 kg (44 lbs) with the help of my scale and my Withings watch so I was less worried about it than having to stop drinking coffee. I was drinking 10 cups a day. I've managed to get it down to 2. It's more reasonable."
The doctor's final recommendation: keep moving but do "gentle" sports. Not easy for Nicolas who likes to run 15 km every weekend. "I felt like I needed it for my mental health, but my doctor asked me to replace it with walking."
All these recommendations are all the more difficult to follow as it is not a diet or a brief pause in Nicolas' life, but a definitive change in his habits now that he understands the gravity of the situation. "I had never heard of it before and I had never worried about my blood pressure. Now I know that with the right tools, it's easy to take action for health. A blood pressure monitor, a scale that tracks your weight loss, and a watch that tracks activity is the perfect combo to help fight hypertension."